Liquid Roof is specifically formulated for vehicles that are in motion. It has a higher reflective value but more important a higher tensile strength which is very forgiving when your vehicle is traveling down the highway. If your RV or trailer is stationary all year you can use the Liquid Rubber but please note should you eventually travel with it the warranty would no longer be valid.
Why has Liquid Roof been the choice of thousands of RV owners throughout the years?
First since it is 100% epdm rubber it is one of the most durable products for overall weatherability and waterproofing ability. It will not chalk as opposed to the sheet epdm version. Two of the most famous characteristics of the product is its ability to waterproof right after it is applied and is the only RV roofing product that will tolerate 100% ponding water. That's right standing water 365 days a year. It has both a milewcide and fungicide built into the product for additional protection and is a one coat application. Other systems on the market require a primer and 2-3 applications of the top coat. It hold up extremely well to both UV and ozone and provides an superior heat reflective component to your cooling down your roof 30-40 degrees.
Liquid roof has been applied to RV's for well over twenty five years and during that time its record stands for itself. It has been written about in the rv publications and has won numerous rewards over the years.
It is also a true DIY or do it yourself product. About 85% of our customer who order the product do the installation themselves. The reason is due to its ease of application. All you need is a medium nap or a 1/4 inch short nap and a squeegee and you are ready. We encourage you to view our many videos sent in by satisfied customers.
For those that have a roof that requires the primer you also have the option to use our Rvroofmagic which does not need a primer regardless of the type of roof so you save $170.00 dollars. You can visit our other product we manufacturer at: https://www.rvroofmagic.com
If you want to save literally thousands vs the cost of a new roof this is the product. Many of our customer have been quoted $4000-$5000 to install a new epdm roof. Well for approx. $350.00 you can have that same roof but better. As the only liquid epdm rubber in the world there is no other completion in the marketplace. Proudly made in the U.S. it has been the trusted product for our customer and their friends.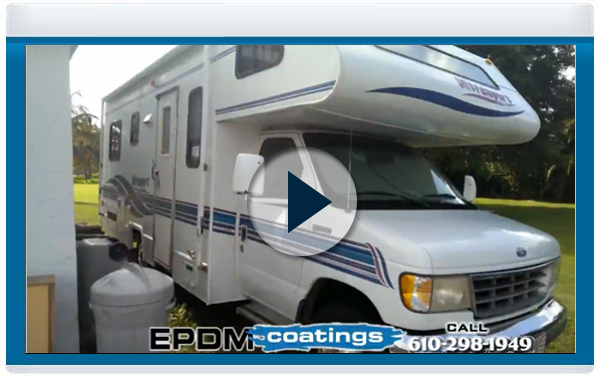 Application
Regarding try times; it normally takes about 25 hours above 50 degrees for the material to develop a skin and then 7 days for a full cure. Should the temp drop below 50 you would need to add that time to the overall cure. So for example if it drops below 50 degrees over the next 15 hours add 15 hours to the overall timeframe. The higher your daytime temperature gets the quicker the material will dry. If you get an unexpected shower no need to worry. Also in the event of that unexpected shower the product is already waterproofed. In fact that ponding rain water will even start curing underwater!. Note that once you mix the catalyst you have approximately a 3-4 hour pot life depending on your daytime temperatures. The higher the temperature the less pot life you have. During your initial cleaning of your RV you may wish to consider adding 2 cups of bleach to kill any surface mold/mildew along with a standard detergent such as dawn dish washing detergent or Simple Green. You will want to be sure that any oils or fats are removed as they will cause the existing epdm roof to swell. That swelling most of the time will go down but in some cases it will not and that is not covered under warranty. Applying one coat of the proflex primer will alleviate that issue.
Liquid Roof Features
Some of the unique benefits of the liquid roof are:
Can be applied over all roofing materials;
UV and ozone resistant;
Excellent against ponding water;
Waterproofs IMMEDIATELY;
Not damaged by freezing and has long term flexibility;
Final cured properties not damaged by adverse conditions;
ONE coat application.
**Note For Fleetwood models or roofs with an Alpha Systems roof will need the proflex primer before applying the Liquid RV roof

Liquid Roof Uses
Liquid roof can be applied to all rv's. For those of us with existing rubber, pvs, fiberglass it is a one coat application. If your epdm roof is worn to the point that the wood is showing you would need to first apply the ProFlex primer to the wood and then coat with the liquid roof (although wood is not a warrantied application). Many of our customer call us wanting to use the product but state that they put on Kool Seal or Snow Roof etc can they still use the product. Absolutely, but you first need to apply the ProFlex primer on any 3rd party coating that was put over the original roof.